District Office Contact
Portland - District Headquarters
Eugene
Medford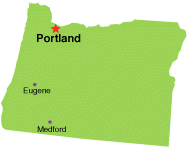 District Task Force Contact
Oregon Ad Hoc Fugitive Task Force

Purpose: The Task Force is a multi agency apprehension effort for specific fugitive cases which terminates with the apprehension of the fugitive(s). The primary mission of the Ad Hoc Fugitive Task Force is to seek out and arrest persons who are wanted for violent crimes against persons, weapon offenses, and drug offenses or where the defendant has a criminal history.

Participants:

U.S. Marshals Service (USMS)
Portland Police Bureau
Oregon State Police
Benton County Sheriff's Office
Clackamas County Sheriff's Office
Clatsop County Sheriff's Office
Curry County Sheriff's Office
Douglas County Sheriff's Office
Jackson County Sheriff's Office
Josephine County Sheriff's Office
Klamath County Sheriff's Office
Lane County Sheriff's Office
Linn County Sheriff's Office
Marion County Sheriff's Office
Multnomah County Sheriff's Office
Sherman County Sheriff's Office
Tillamook County Sheriff's Office
Washington County Sheriff's Office
Yamhill County Sheriff's Office
Astoria Police Department
Beaverton Police Department
Gresham Police Department
Hillsboro Police Department
North Plains Police Department
Seaside Police Department
Vancouver Police Department
Multnomah County Department of Community Justice
Clackamas County Department of Community Corrections

Phone: (503) 326-2209
Oregon High Intensity Drug Trafficking Area (HIDTA) Fugitive Task Force

Purpose: The primary mission of the Oregon High Intensity Drug Trafficking Area Fugitive Task Force is to conduct investigations focusing on the identification and arrest of felony fugitives wanted for drug trafficking, violent crimes related to drug trafficking, violent crimes with a criminal history of drug sales or use, and money laundering.

Participants:

U.S. Marshals Service (USMS)
Portland Police Bureau
Oregon National Guard
Oregon State Police
Douglas County Sheriff's Office
North Plains Police
Clackamas County Department of Community Corrections
Multnomah County Department of Community Justice

Phone: (503) 326-2209
County
Oregon constitutes one judicial district. 
Court: in Coquille, Eugene or Springfield, Klamath Falls, Medford, Pendleton, Portland
Profiled Fugitives
There is no fugitive information available for this district.
The policies and procedures of the various U.S. Marshals Service District Offices found on this website may vary depending on local rules, local needs, and legal and policy interpretations. These policies and procedures, and any variations among District Offices, are not intended to, do not, and may not be relied upon to create any rights, substantive or procedural, enforceable at law by any party or person in any matter civil or criminal. Nor are any limitations thereby placed on otherwise lawful U.S. Marshals Service prerogatives.