District Office Contact
Salt Lake City - District Headquarters
Saint George​​​​​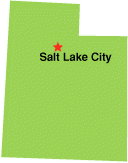 District Task Force Contact
Violent Fugitive Apprehension Team (VFAST)

Purpose: Fugitive Apprehension

Participants:

VFAST Salt Lake City

Unified Police Department
West Jordan Police Department
West Valley Police Department
Department of Corrections
Immigration and Customs Enforcement

VFAST Ogden

Adult Probation and Parole
Clinton Police Department
Davis County Sherriff's Office
Syracuse Police Department
Summit County Sherriff's Office
Adult Probation and Parole
Immigration and Customs Enforcement

VFAST Utah County

Provo Police Department
Orem Police Department
Utah County Sherriff's Office
Adult Probation and Parole

VFAST Saint George

Saint George Police Department
Washington County Sherriff's Office
Adult Probation and Parole

VFAST Vernal

Vernal Police Department
Adult Probation and Parole
Uintah County Sherriff's Office

Phone: (801) 524-5693
County
Utah constitutes one judicial district comprising two divisions.
Northern Division

County: Box Elder, Cache, Davis, Morgan, Rich, Weber

Court: in Salt Lake City, Ogden
Central Division

County: Beaver, Carbon, Daggett, Duchesne, Emery, Garfield, Grand, Iron, Juab, Kane, Millard, Piute, Salt Lake, San Juan, Sanpete, Sevier, Summit, Tooele, Uintah, Utah, Wasatch, Washington, Wayne

Court: in Salt Lake City, Provo, St. George
Profiled Fugitives
There is no fugitive information available for this district.
The policies and procedures of the various U.S. Marshals Service District Offices found on this website may vary depending on local rules, local needs, and legal and policy interpretations. These policies and procedures, and any variations among District Offices, are not intended to, do not, and may not be relied upon to create any rights, substantive or procedural, enforceable at law by any party or person in any matter civil or criminal. Nor are any limitations thereby placed on otherwise lawful U.S. Marshals Service prerogatives.