District Office Contact
Cheyenne- District Headquarters
Phone: (307) 829-3710
Fax: (307) 772-2198
Casper
Phone: (307) 261-5411
Fax: (307) 261-5410
Mammoth
Phone: (307) 344-6517
Fax:(307) 344-6515
Lander
Phone: (307) 332-8695
Fax: (307) 332-8695
Jackson
Occupied only during term of Court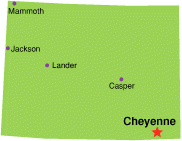 Randall Huff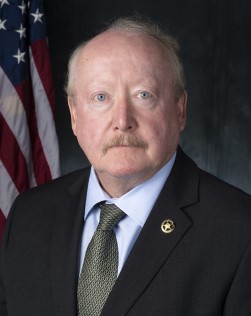 Marshal Randall Huff serves as the United States Marshal for the District of Wyoming. He was confirmed by the United States Senate, then appointed by President Donald J. Trump on July 9, 2019. Marshal Huff brings a variety of law enforcement and management skills from prior employment.
District Task Force Contact
Wyoming Fugitive Task Force

Purpose: The Wyoming Fugitive Task Force (WFTF), which is headed by the United States Marshals Service, District of Wyoming, was created in February 2004. It's mission is to track, locate, and apprehend both state as well as federal fugitives. The Wyoming Fugitive Task Force is composed of numerous federal, state, and local law enforcement agencies.

Participants:

Cheyenne Police Department
Laramie County Sheriff's Office
Wyoming Highway Patrol
Division of Criminal Investigation
Federal Bureau of Investigation (FBI)
Drug Enforcement Administration (DEA)
Bureau of Alcohol Tobacco and Firearms and Explosives (ATF)
Immigration and Customs Enforcement (ICE)
United States Secret Service (USSS)

Phone: (307) 772-2198
County
Albany, Big Horn, Campbell, Carbon, Converse, Crook, Fremont, Goshen, Hot Springs, Johnson, Laramie, Lincoln, Natrona, Niobrara, Park, Platte, Sheridan, Sublette, Sweetwater, Teton, Uinta, Washakie, Weston
Court: held in Casper, Cheyenne, Evanston, Lander, Jackson, Sheridan
Profiled Fugitives
If you have information on any fugitives, please call 1-888-869-4589. (24 Hour Tip Line)
The policies and procedures of the various U.S. Marshals Service District Offices found on this website may vary depending on local rules, local needs, and legal and policy interpretations. These policies and procedures, and any variations among District Offices, are not intended to, do not, and may not be relied upon to create any rights, substantive or procedural, enforceable at law by any party or person in any matter civil or criminal. Nor are any limitations thereby placed on otherwise lawful U.S. Marshals Service prerogatives.