Name

Southern District of Illinois
District Office Contact
St. Louis - District Headquarters
Address: 750 Missouri Ave., E. St. Louis, IL 62201
Phone: (618) 482-9336
Fax: (618) 482-9235
Hours of Operation: 8:00 AM - 4:30 PM
Benton Office - U.S. Courthouse
Address: 301 W. Main St. Benton, IL 62812
Phone: (618) 439-6442
Fax: (618) 439-4482
Hours of Operation: 8:00 AM - 4:30 PM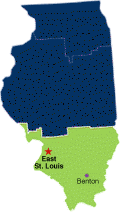 Name
Southern District of Illinois
David C. Davis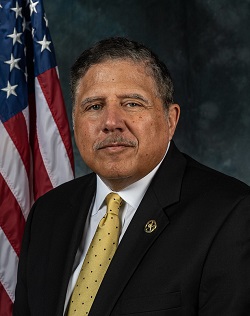 The Honorable David C. Davis was nominated by President Joseph R. Biden, Jr., confirmed by the United States Senate, and appointed on January 3, 2023, to serve as the United States Marshal (USM) for the Southern District of Illinois.
District Task Force Contact
Great Lakes Regional Fugitive Task Force

Purpose: The Great Lakes Regional Fugitive Task Force (GLRFTF) has become the central investigative base for a multitude of federal, state, and local agencies attempting to identify, locate, and apprehend dangerous wanted offenders in the greater Chicagoland area, Illinois, Indiana, Michigan, and Wisconsin. The Task Force focuses primarily on combating violent crime such as murder, sexual assault, rape, child pornography, robbery and aggravated assault. Through the assistance provided to state and local law enforcement agencies with community policing efforts, violent crime interdiction initiatives, and Task Force led warrant "roundups," the Great Lakes Regional Fugitive Task Force arrests more than 500 violent offenders each month.

Main phone: (773) 475-5820

After hours phone: (312) 353-1002
County
Alexander, Bond, Calhoun, Clark, Clay, Clinton, Crawford, Cumberland, Edwards, Effingham, Fayette, Franklin, Gallatin, Hamilton, Hardin, Jackson, Jasper, Jefferson, Jersey, Johnson, Lawrence, Madison, Marion, Massac, Monroe, Perry, Pope, Pulaski, Randolph, Richland, St. Clair, Saline, Union, Wabash, Washington, Wayne, White, Williamson
Court: in East Saint Louis, Alton, Benton, Cairo
Profiled Fugitives
There is no fugitive information available for this district.
The policies and procedures of the various U.S. Marshals Service District Offices found on this website may vary depending on local rules, local needs, and legal and policy interpretations. These policies and procedures, and any variations among District Offices, are not intended to, do not, and may not be relied upon to create any rights, substantive or procedural, enforceable at law by any party or person in any matter civil or criminal. Nor are any limitations thereby placed on otherwise lawful U.S. Marshals Service prerogatives.