Craig Ellis Thayer J.D.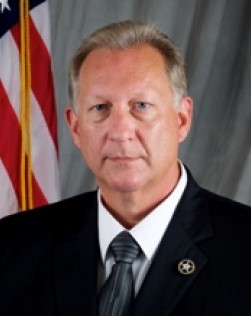 Craig Ellis Thayer was sworn-in as the United States Marshal for the Eastern District of Washington on September 7, 2010, the same day he honorably retired as the Sheriff of Stevens County, Washington.
As Marshal, Thayer is responsible for leading and directing operations, including security and protection of the United States Courts, criminal investigations, fugitive apprehension, execution of federal court orders and other law enforcement activities in the District. Further, the Eastern District of Washington is a member of the Pacific Northwest Violent Offender Task Force.
Marshal Thayer began his association with law enforcement and the Sheriff's office in 1972 as a "Sherriff's Posse" certified diver for the Underwater Search and Rescue team. As an Emergency Medical Technician (EMT), Marshal Thayer worked on the Sheriff's Ambulance Service for many years. He came up through the ranks of the Sheriff's Office and held numerous assignments including Reserve Deputy Coordinator, Explorer Advisor, Marine Deputy and Supervisor, Training Officer, initial 911 Project, Deputy Coroner, and Team Member and Supervisor of the Tactical Response Team (SWAT). Marshal Thayer was initially appointed as Sheriff in 1994, and then served four terms as the elected Sheriff of Stevens County Washington. While serving as Sheriff, Craig managed the Sheriff's Office, the Ambulance Service, the Jail, the Emergency Services Department, and the Consolidated Emergency 911/Dispatch center.
Throughout his career, Marshal Thayer has served on various commissions and was twice appointed as a Commission member for the Advisory Council on Criminal Justice Services in Washington State, and twice appointed to the Washington State Criminal Justice Training Commission, and served as the Commission's Chair prior to becoming Marshal. He served on the Joint Terrorism Task Force Executive Board for Washington State and is a past President of both the Washington State Sheriffs' Association, and of the Washington Association of Sheriffs and Police Chiefs.
Marshal Thayer graduated from Gonzaga University with a Bachelor of Science degree in Criminal Justice and a minor in Sociology, and has a Juris Doctorate from Gonzaga University School of Law. He has been admitted to practice by the Washington State Bar Association, the Federal Bar of the Eastern District of Washington and by the United States Supreme Court. Marshal Thayer has completed the Northwest Law Enforcement Executive Command College, the National Sheriffs' Institute Executive Development Program, and the FBI National Academy. Additionally, the Washington State Criminal Justice Training Commission awarded him their Executive Management Certification.