Name

Eastern District of Michigan
District Office Contact
Detroit - District Headquarters
Phone: (313) 202-0135
Fax: (313) 234-5630
Fax: (313) 234-5602
Ann Arbor
Phone: (734) 741-2143
Fax: (734) 741-2070
Bay City
Phone: (989) 893-7404
Fax: (989) 893-0210
Flint
Phone: (810) 766-5406
Fax: (810) 766-5003
Port Huron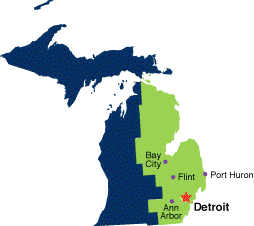 Name
Eastern District of Michigan
Owen M. Cypher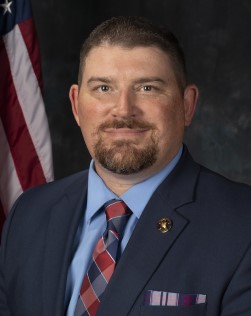 U.S. Marshal Owen M. Cypher began his career in law enforcement in 1995, when he enlisted into the United States Marine Corps to serve as a military police officer. While attending military police school, he was recruited and selected to serve as a guard for the Presidential Helicopter Squadron. U.S. Marshal Cypher served as a Marine-1 Security Officer.
District Task Force Contact
Detroit Fugitive Apprehension Team (DFAT)

Purpose: To pursue and arrest local, state and federal fugitives.

Participants:

U.S. Marshals Service (USMS)
Detroit Police Department
Livonia Police Department
Wayne County Sheriff's Department
Macomb County Sheriff's Office
Michigan State Police
Sterling Heights Police Department
Oakland County Sheriffs Department
Dearborn Police Department
Michigan Department of Corrections Absconder Recovery Unit
Saginaw Police Department
Social Security Administration Office of Inspector General
U.S. Immigration and Customs Enforcement
Bureau of Alcohol, Tobacco, Firearms and Explosives (ATF)
Department of Housing and Urban Development Office of Inspector General

 

Phone: (313) 202-0135 (Detroit)
Phone: (734) 741-2143 (Ann Arbor)
Phone: (810) 982-2422 (Port Huron)
Phone: (810) 766-5406 (Flint)
Phone: (989) 893-7404 (Bay City)
County
Alcona, Alpena, Arenac, Bay, Cheboygan, Clare, Crawford, Genesee, Gladwin, Gratiot, Huron, Iosco, Isabella, Jackson, Lapeer, Lenawee, Livingston, Macomb, Midland, Monroe, Montmorency, Oakland, Ogemaw, Oscoda, Otsego, Presque Isle, Roscommon, Saginaw, Saint Clair, Sanilac, Shiawassee, Tuscola, Washtenaw and Wayne
Court: in Detroit, Ann Arbor, Bay City, Flint, Port Huron
Profiled Fugitives
If you have information on any fugitives, please call 1-888-869-4589. (24 Hour Tip Line)
The policies and procedures of the various U.S. Marshals Service District Offices found on this website may vary depending on local rules, local needs, and legal and policy interpretations. These policies and procedures, and any variations among District Offices, are not intended to, do not, and may not be relied upon to create any rights, substantive or procedural, enforceable at law by any party or person in any matter civil or criminal. Nor are any limitations thereby placed on otherwise lawful U.S. Marshals Service prerogatives.