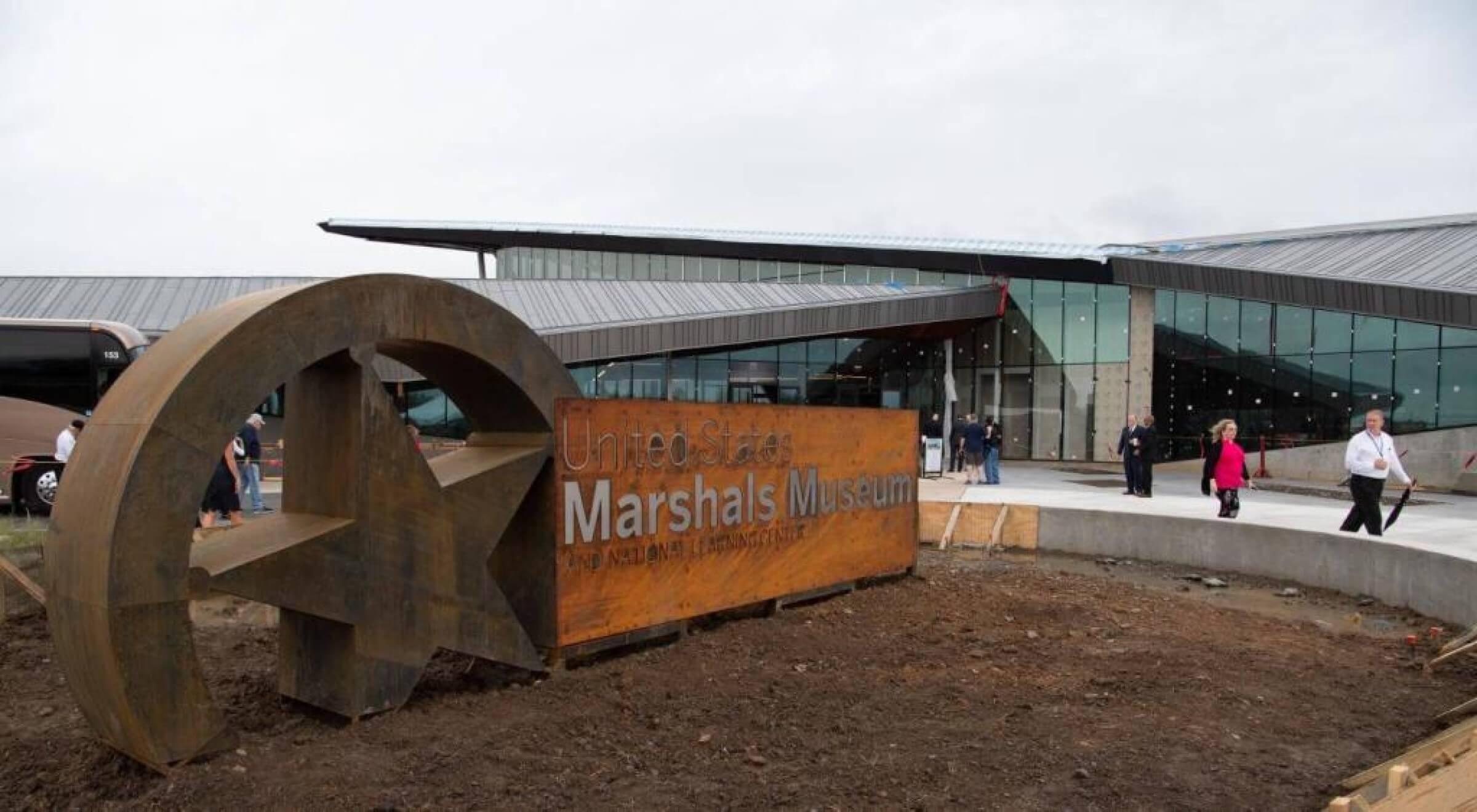 America's Star - A Partial Pictorial Tour of our Past Museum Exhibit
Description
With the forthcoming United States Marshals Museum in Fort Smith, Arkansas, there have been many questions as to what might be included as exhibits. In determining this, below is a composite of photographs from our previous exhibit, which highlight some of the artifacts and case work. The place and time of each photograph varies, but all were taken between late 1988, when the tour began, through early 2003.
After a 14-city tour, "America's Star," designed by the Smithsonian Traveling Exhibit Branch (SITES), ended the agency's Bicentennial activities at Tallahassee, Florida in July 1991. The artifacts were a mix of agency-owned and loaned items. A new home was sought after the tour, and from 1991 through 2003, "America's Star" resided in the Wyoming Territorial Park in Laramie, Wyoming.
| | |
| --- | --- |
| Depicts from back: Belle Starr's Saddle, U.S. Marshals Office ledger book and desk and jail cell. | This photograph focuses on the setup of several exhibit areas. Featured in the center is one of the most important paintings that depict our agency's role in desegregating schools in the American South, Norman Rockwell's The Problem We All Live With. In the famous scene, Rockwell painted a young Ruby Bridges being escorted by four deputies to her first classes at the William Frantz School, New Orleans (1960). |
| At Top Left is a copper whisky still, coupled with a picture of Coxey's March. Historically, one of the most dangerous jobs of a deputy during the late 19th Century was accompanying revenue officers during raids of illicit stills. The 1894 march to Washington named for leader Jacob Coxey comprised a large number of unemployed people demanding new programs. However, when a group of his followers began stealing trains, many under federal receivership, the U.S. Marshals were sent to restore order. | Several artifacts highlighting the role of the deputy in the American West. In the center is a statue of Deputy U.S. Marshal John Swain of the Indian Territory, while to the right shows the relationship with Native Americans, some of whom served in our ranks. |
| Registration of alien nationals, and in wartime, enemy aliens, was a duty performed by the U.S. Marshals for many years. At right features one of the registration books kept on Chinese alien laborers. | The famous San Diego Chicken costume used during the Washington D.C. sting in December 1985. A deputy occupied this suit, while others donned costumes of cheerleaders, officials or mascots, in a special gathering to trap fugitives who were invited to receive free football game tickets. The elaborate operation worked to perfection–one arrested fugitive even asking if he still would receive his tickets! |
| Two famous outlaws that proved crime did not pay in the Indian Territory. It was handcuffs–and a hanging rope–for outlaw Crawford Goldsby, known as Cherokee Bill. At right is a facsimile of a group photograph comprising the posse that ended the career of Ned Christie, who went down in a hail of bullets. Because of the necessity of proof to collect a stated reward, these type of pictures, which featured the dead outlaw, were typical. | Belle Starr's saddle, mounted on special cylinder, inside exhibit. |
| U.S. Marshals Office, ca. 1900, complete with roll top desk, wardrobe, and docket stand. | Typical tools in law enforcement during early periods in U.S. Marshals history. At left is an early 18th Century ledger book and colonial-era black powder pistol, while its descendant, a Civil War era revolver and restraints–both short and long–appear at right. Behind these are a picture of President Abraham Lincoln, U.S. Marshal Ward Lamon, and a group of generals at the Antietam Battlefield in Maryland. |
| Helmet, gas gun and canisters, vest, night stick, and armband from the Integration of the University of Mississippi, September 30 - October 1, 1962. These components were all utilized during the riots that ensued, primarily around the administration building, known as the Lyceum. The deputies held their ground until reinforcements arrived. | |
| | |
| | former Director Stanley Morris speaks at the opening of the America's Star traveling exhibit, United States Supreme Court, 1988. Just to his left is late Chief Justice Warren Burger. |
The United States Marshals Service looks forward to showcasing our collections, as well as related loaned items, in the future museum!